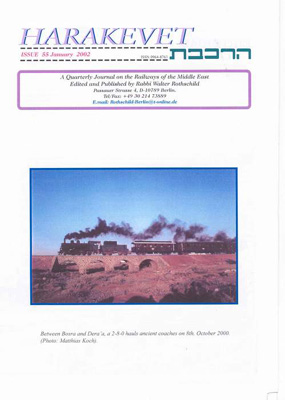 Harakevet
A very important source to knowledge about the railways of The Middle East is the magazine Harakevet.
It is published in Berlin, but rest assured that the editor is very well informed. He has even been able to publish Harakevet from Aruba in The West Indies....
The word »Harakevet« means »The Train« or »The Railway« in Hebrew.
It is the only magazine specialising in the railways of the Middle East. Not only Israel but Lebanon, Syria, Jordan, the Sinai and Arabian Peninsulas and even Iraq and Iran and Palestine have featured, and the scope covers all aspects of early history (back to the schemes of the 1840's), through the Ottoman period, the Mandate period and into modern times.
At the time of writing a subscription is 35 euro a year.
Subscriptions are handled by
Mr. Steve Waldenberg,
CPS-Airedale,
39 Winding Way,
Leeds LS17 7RG,
UK.
The editor is
Mr. Walter Rothschild
Passauer Strasse 4
D-10789 Berlin
Germany
Back to: Trains and Trams