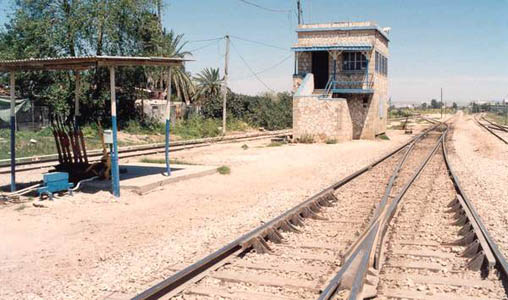 The Northern signal box in Lod, Israel, in 1998 just before it disappered due to massive rebuilding. Click on the picture to enlarge it.
Photo: Hans-Henrik Landsvig
Trains and trams of The Middle East
Be warned: Even hard core enthusiasts may find some of this stuff a bit heavy.
At this very moment I can only supply very few items, plus some links. But don't worry: I'm working on this, and there will be more some day. But first of all let me recommend the magazine Harakevet which provides an excellent record of the past and present of railways all over The Middle East.
Another great read is »The Railways of Palestine and Israel« by Paul Cotterell, published by Tourret Publishing, 5 Byron Close, Abingdon, Oxon, GB. The ISBN is 0-905878-04-3.
Following the tracks of The Middle East one should note that there is a tramway connection all the way from Copenhagen to Alexandria.
Tram operations in Copenhagen were discontinued in 1972, and 100 reasonably new trams were sold to Alexandria, where many are still in service. Two were brought back to Denmark during the summer of 2001, and they are now in the tramway museum at Skjoldenæsholm West of Copenhagen.
I visited Alexandria in 1998 together with press photographer Heidi Levine to do a report for the daily newspaper The Berlingske Tidende which in those days employed me as its Middle East Correspondent.
The story is in Danish - you will find it here - so non-Danish speakers may prefer to click here to finde some words in English. The pictures are the same though.
Another item deals with the remains of the 1.05 metre gauge lines in what is now The West Bank. I visited the area in June 1999 together with my colleague Sybil Ehrlich from The Jerusalem Post and was surprised to see how much was left, even though there had been no trains for about fifty years. They stopped running as the West Bank came under Jordanian control after the Israeli war of independence in 1948.
Click here to see Sybil Ehrlich's impressions from the trip as reported in Harakevet.
For more information you may be interested in this Israeli railway enthusiasts site, but you will of course also be interested the official website of the Israeli Railways.
Also don't miss The European Railway Server with has extensive sections about railways of The Middle East.
If you are interested in history do not miss The National Israeli Photo Collection. Search for »railroad«, »railway«, »train«, and whatever else comes to your mind. You will be occupied for hours.
And finally: You can join me on a nostalgic journey to the railway halt of my childhood - Stengården - North of Copenhagen in Denmark. I'm sorry, but the text will have to remain in Danish until I find time to translate it.
---
---
This site is © Copyright Hans-Henrik Landsvig, All Rights Reserved
---